Digital Marketing Made Simple: A Comprehensive Guide
The internet and the accompanying technologies that surround it have revolutionized how marketing is done. Below is a guide to understanding digital marketing, its different elements, and how it can help elevate your business.
What is Digital Marketing
Digital marketing has come to be an umbrella term for several varying promotional techniques designed to reach customers using digital technologies. Basically, it is any form of marketing products or services that involves electronic devices. It's important to note that while digital marketing mainly involves the internet, it can still be done both online and offline. But for the purposes of this article, we'll focus on online techniques (more on this later).
Importance / Benefits
There are a number of reasons why digital marketing has become integral to modern business success, foremost of which is the continuously increasing number of people with access to the internet. As of March 2019, the estimated number of internet users is at close to 4.4 billion—more than half of the global population.
Digital marketing allows even smaller businesses to have an expanded reach. Couple that with the plethora of tools available to gather and analyze data, and businesses now have invaluable insight into consumer behavior that simply wasn't available during the days of traditional marketing.
Here are some of the other benefits of digital marketing:
It reaches people where they spend their time and money
While social media may have started as a space and means to connect with friends and family, these days, it's evolved into a thriving commercial space, with more and more people doing their brand and product research on these platforms. 
So if you're a startup looking to spread awareness about your brand and its products and services, social media has become one of the most viable platforms to focus your marketing efforts on. How many times have you seen an influencer promote a product, gone to that brand's profile, followed it, and eventually purchased something from them?
It levels the playing field
Speaking of smaller businesses, digital marketing has allowed smaller brands to have a slice of the pie previously reserved for larger corporations. While it's unlikely anyone can compete with a titan like Amazon, the reality is that even home-based entrepreneurs are able to have a decent revenue stream with the help of digital marketing—and at times, even with just a mere Instagram account.
Digital marketing may not literally level the playing field, but it gives smaller businesses an opportunity to succeed.
More targeted
Digital marketing allows for the kind of precise targeting that just wasn't possible in traditional marketing. With the vast amounts of available data, you're able to pinpoint exactly who you want to target with your digital marketing—where they're from, how old they are, and what their interests are, among other factors. So for example, if you're advertising on Facebook, you can target consumers from a specific location, those who are following similar brands, and even those that have visited your competitors' websites.
As well, because data can provide great insight on who your target customers are, you can create ads that are highly relevant to them, increasing the chances of them actually engaging with your ads. And when you run campaigns – whether on social media or SEO – you're able to measure results with data analytics. This allows you to further tailor your approach to what's likely to work on your target.
Personalized
Personalization has become one of the more important aspects of digital marketing. When it comes to email marketing, for example, personalization can increase email open rates by up to 82%, click-through rates by up to 75%, and sales by as much as 56%.
When you see an email in your inbox that has close to nothing to do with you, you quickly delete it, or at best, ignore it. But when you get an email offering a 10% discount on a product that you were just looking at the other day, it increases the likelihood that you'll take positive action – be it learning more about the product, or actually biting on the offer.
You'll learn more about the potential benefits of digital marketing as we delve deeper into the different channels and strategies.
Digital Marketing Funnel
As the sources where people consume media from has changed, so has the buyer journey. As you can see below, the traditional marketing funnel was more of a linear journey. For example, people would get fax advertising (yes, that used to be a thing) about a company that sells office chairs (awareness). Then they might hear an ad on the radio from the same company, which could fuel interest. They then visit the physical store to check out the chairs (prospect). They could then decide if it fits their needs (action).
The modern buyer's journey a.k.a. the digital marketing funnel isn't so linear anymore, as you can see below.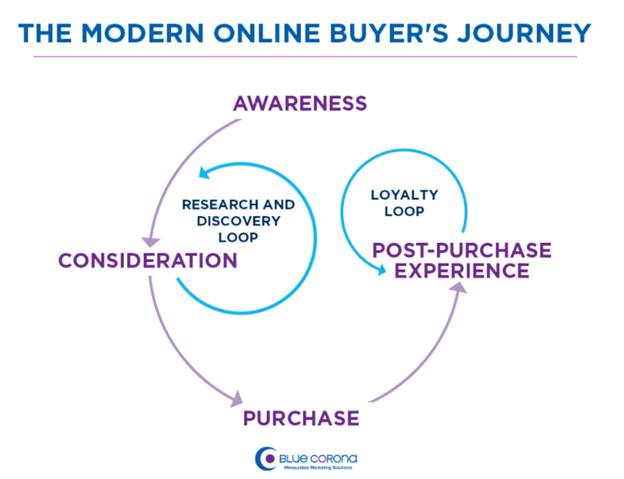 Here's an example of how a digital marketing funnel might go. For this example, let's say the consumer is Tash, a 28-year-old flight attendant who's single.
While browsing Instagram, she comes across an ad for a beauty box that's on a special promo. This makes her thinks about the products she uses, and if she might have use for the products included in the box. (Awareness)
The following day, Tash sees another post from the same brand, this time on Facebook. Below the post are comments of satisfied customers. She visits the brand's profile to learn more about it. (Awareness, Consideration)
Two days later, she sees an influencer's story unboxing the same beauty box. (Consideration)
That weekend, Tash purchases the beauty box. (Purchase)
She follows the brand on both Facebook and Instagram, and even posts about her purchase. (Loyalty loop)
A couple of weeks later, the same brand launches a new line of lipsticks. Tash sees this Instagram post and quickly purchases a couple of shades, skipping the consideration stage altogether. (Loyalty loop, Purchase)
Inbound and Outbound Marketing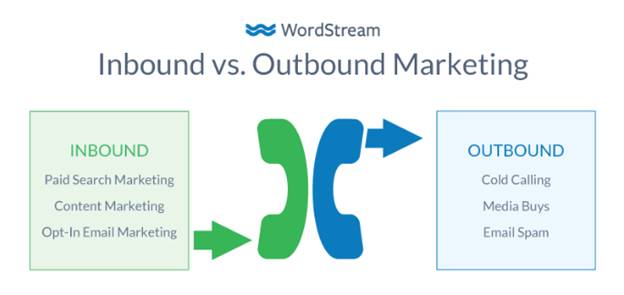 Inbound and Outbound Marketing
Above is a basic overview of what inbound and outbound marketing can look like. Basically, in inbound marketing, customers try to find you when they need you. With outbound marketing, a business initiates the conversation by sending out its message to an audience. Traditionally, this was done through TV, radio, and print ads.
But as highly-targeted, and personalized marketing tactics have increased in popularity, outbound marketing has started to fall out of favor. But that's just for discerning marketers, as it's estimated that despite being harder to track and less profitable, it's estimated that businesses still spend 90% of their marketing budgets on outbound marketing.
According to a report, nearly half of companies that implement inbound marketing efforts see 25% more ROI on those programs than those who do not. It also found that inbound marketing channels can deliver up to 30 times the campaign conversion rate compared to outbound direct mail campaigns.
Examples of inbound marketing include:
Blogs – Those who publish blog content at least 16 times a month generate 3.5x more website traffic, and 4.5x more leads than those who only post blogs a few times a month.
Infographic – It's a great alternative for those who don't want to read 2,000 words on a topic, and instead want a quick snapshot of the idea.
Whitepaper – This an in-depth, educational piece of content. It's far more formal than a blog, and entails more research. It also looks more professional.
Webinar – It's basically an online seminar presented to an exclusive audience.
These types of content allow you establish credibility, and build trust with high-quality leads who have expressed an active interest in what you're offering. This is particularly important for B2B (business to business) companies, where the sales cycle is typically longer than selling to regular consumers.
Digital Marketing Channels
Email
At its barest, email marketing is the use of email to promote your business. This is used to nurture relationships with potential customers, keep existing customers updated with your brand and its latest offerings, and extend offers designed to encourage customer loyalty, among others.
If you're just getting into digital marketing, it may seem like email can be outdated compared to all the other popular marketing channels and strategies. But while the basic premise of email remains the same, the tools that surround it have evolved. This is one of the reasons why 85% of US retailers consider email marketing as the most effective customer acquisition tactics.
Here are some other stats:
There are 3.7 billion email users – a number that's expected to reach 4.3 billion by 2022. During the same period, it is expected that more than 333 billion emails will be sent each day.
This is perhaps the most striking stat for marketers. For every $1 you spend on email marketing, you can expect an average return of $32.
73% of millennials say they would rather communicate business affairs via email.
77% of users would rather receive promotional content via email than through SMS or social media. The same percentage of customers open emails solely because discounts are being offered.
Email Trends
As with all marketing channels, there are trends that rise to become standard practice. Below are some of the hottest trends in email marketing right now.
Personalization
We've all gotten some random spam mail hoping to get us to bite into whatever it is they're trying to offer. And we've all ignored them. But we've also gotten emails from brands where we're addressed by our first names. And while that in itself doesn't necessarily lead to conversion, it's already a better start than an impersonal email blast.
There's a reason why every brand should personalize their emails. A large part of it is that personalized campaigns drive 18x more revenue than those that aren't. Apart from the recipient's name, a personalized copy—starting from the subject line. It's been found that emails with personalized subject lines are 26% more likely to be opened.
Red Lobster then follows that up with personalized content that shows they value (and pay attention to) individual customers' experiences with their brand, as you can see below.
Similarly, you should also personalized images whenever applicable. Just as how Virgin customized images for recipients located in the US, UK, and Australia.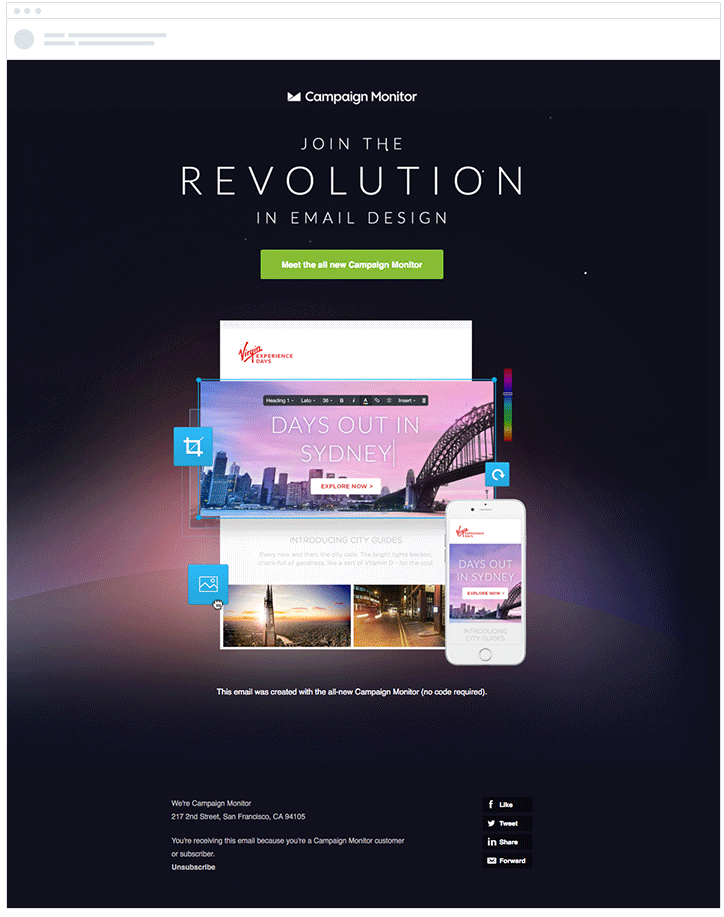 Because the personalized content is relevant to the recipients, Virgin saw their click-through rates for the campaign increased by 29%. As well, personalized offers improve email performance. This can improve click-through rates by 14% and conversion rates by 10%.
User data is used to create customer profiles – this will then be the basis of the different content created for different types of subscribers. With the vast amounts of data available, and the many tools that help provide insight into those data, there's a lot of room to get creative with your personalized offers.
Even something as simple as personalizing emails by gender can make a difference.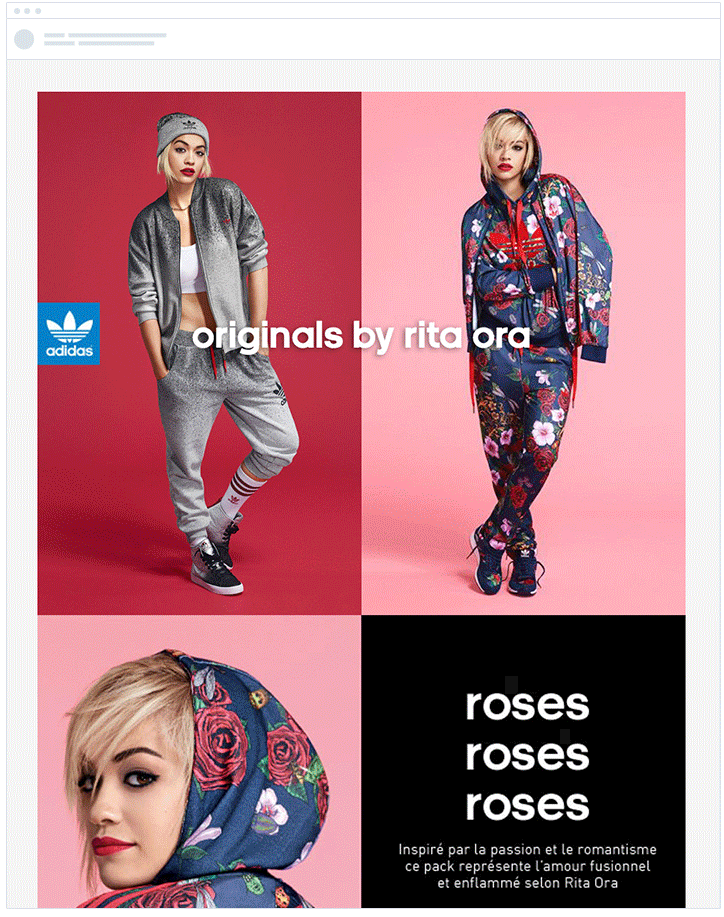 Another way is to personalize by location. As you can see below, Uber came up with specific offers to subscribers from specific locations. Not only does it have an enticing enough offer of a cheaper ride, they even provide the rates for their other services for rides in the same area.
Here's a fun fact: An average of $4 trillion of revenue are lost each year through cart abandonment. We've all done this – add something to cart, then leave it there to let the purchase decision simmer. An excellent way to counter this, if you're a marketer, is to send personalized abandoned cart email reminders. Sixty-five percent of abandoned carts can be recaptured within 24 hours, while emails sent within an hour of cart abandonment have a 40% open rate. You can even up the effectiveness by personalizing cart abandonment reminders based on customer data.
Jack Wills doubles down on their reminders by sending recommendations along with it.
As you can see, the data is already there for you to utilize. All you need to do is get creative with your personalization.
Segmentation
Another way to boost the effectivity of your emails is with segmentation. According to Mailchimp's user data, segmented campaigns get 14.37% more opens and 64.78% more clicks than non-segmented campaigns.
This simplest way to start with segmentation is by using users' demographic data. Basic information like age, gender, company position, and income level can already tell you a lot about a customer's potential needs and interests. This is why you should try to get as much information about your customers as they go along their journey.
It's important to note, though, that some customers don't appreciate consistently being asked for information. To skate around this, you can create a survey or quiz to get the information you need. It goes beyond basic information, and provides insights into a person's individual tastes, preferences, and beliefs. Of course, not everyone will be willing to take the time to answer your quiz, you can entice them to do so by offering, for example, a special discount for completing the survey / quiz.
Similar to personalization, there are a myriad of ways you can segment your emails. It also helps that tools like Mailchimp make doing so as easy as a few clicks.
Above is an example of segmenting with users' email engagement. It could be as simple as "active" and "inactive," or dive a little deeper by focusing on those who not only opened a recent email, but clicked on them. For those users, you can categorize them as "interested."
Segmentation works hand in hand with personalization. If you segment your email list thoroughly, this gives you the chance to create even more personalized emails.
Automation
Email automation is not just about automatically sending emails. It is a digital marketing strategy that utilizes the ability to send time or action-triggered emails to subscribers using relevant information. This process takes a huge bulk of tasks off your plate and allows you to focus instead on engaging with your customers.
But while automation tools take care of executing the tasks, you still need to create a plan for it. One email flow can be as simple as "Subscribe > customer joins list > receives welcome email".
Other possible triggers include:
Confirmation emails after registration / order completion
Re-engagement emails after a period of inactivity
Subscription renewal reminders for users with one month remaining
These rules and triggers sets the foundation for your campaign. So taking the time to conceptualize it is integral to your email campaign's success.
As you might imagine, there a plenty of features automation tools can offer. With automation, you have a great tool for building relationships with customers and establishing brand credibility.
Recommended Tools
Constant Contact – Ideal for beginners with its user-friendly service that allows you to manage lists, contacts, templates, calendar, and more.
Drip – Boasts of intelligent marketing automation tools, smarter email segmentation, and a visual workflow builder.
SendinBlue – Its simple drag-and-drop tools make it ideal for beginners.
Mailjet – Apart from having one of the best prices, it also comes with a real-time collaboration feature, making it perfect for teams.
SEO
Search engine optimization is the process of improving positions in organic search results in search engines like Google, Bing, and Yahoo. If you've ever Googled anything, you understand that the higher the website is on the page, the more people see, and ultimately, click on it.
But while getting on top of search engine results pages (SERPs) is the bottom line, SEO as a practice goes far beyond that. It's also about building the perfect technical structure of websites for it to be able to perform. This involves optimizing content to user needs, and being credible enough to be linked from other websites.
SEO Stats
Google accounts for over 78% of all global desktop search traffic, with close to 70,000 searches made every second – or some 6 billion a day.
75% of users never crawl past the first page of search results.
According to Andrey Lippatrev, Google Search Quality Senior Strategist, Links, Content, and Rankbrain are the top 3 ranking factors for Google's search.
57% of SEO practitioners believe content creation to be the best driver of results. Other SEO techniques include keyword research (49%), social media marketing (39%), and link building (36%).
One study found that 81% or respondents consider their SEO campaigns to be above average. Of the participants, their top goals were to generate traffic, while the top barrier was to improve search engine rankings.
On-Page SEO
On-page SEO (or on-page optimization) refers to measures that can be taken directly within the website to improve search rankings position. These include:
Crawl Errors
When a search engine tries to reach a page on a website and fails, that's what's called a crawl error. To give you a better idea of what that means, let's start with what crawling is. Crawling is the process wherein a search engine uses a bot to visit every page of a website. The bot then crawls the pages and indexes all the contents for Google's reference, adding all the links on those pages to its list of pages it has to crawl. The main goal here is to ensure the bot can get to every page on the site. When it's unable to do so, that's a crawl error.
There are two basic categories of crawl errors:
Site errors – This would mean that the entire website can't be crawled.
URL errors – These relate to one specific URL per error.
Site errors
The most common reasons for site errors include:
DNS errors – This basically means a search engine is unable to communicate with your server. This is usually a temporary issue, often due to a server being down.
Server errors – This could occur when a bot wasn't able to access your server because, for example, the request timed out. This could also occur when there are code flaws that prevent a page from loading, and when your site has too many visitors, making the server unable to handle all the requests.
Robots failure – Your robot.txt file is for when you have parts of your site you don't want crawled. The bot crawls this first. If it can't reach your robot.txt file, Google will postpone the crawl. So it's important to always make it available.
URL errors
Most of the time, URL errors are caused by internal links. For example, if you remove a page from your site and do not remove any inbound links to it, the bot will follow it and come up with a 404 Not found error. So make sure to adjust and remove inbound links whenever you remove pages.
Fixing crawl errors should be part of your regular site maintenance. You can also use plugins that prevent crawl errors whenever you delete a page.
Keyword research
This is defined as the process of finding and analyzing actual search terms people use in search engines. This will enable you to find out what people are actually typing into that search box, which can help inform your content strategy. It also tells you what topics people care about, and how popular those topics are to your audience. So when you research keywords that are regularly getting high-volume searches, you can get an idea of what topics to focus your content on.
As pointed out by Hubspot, by researching keywords for their popularity, search volume, and general intent, you can address questions that majority of the people in your audience want answers to. But as SEO keyword research has evolved, search intent has become increasingly popular to keyword research.
For example, when people type "how to promote your website," what exactly do they want to know? Is it a step-by-step guide, a list of tactics, or something else?
As you can see above, Google favors list of tactics. This means that if you want to rank for the keyword "how to promote your website," then you need to create that type of content. Looking at the current top-ranking pages helps you better understand search intent.
Page optimization
There is a litany of things you should do to make sure your pages are optimized. Here are the basics:
Use SEO-friendly URLs
Google gives more weight to the first 3-5 words in a URL. This means that you need to avoid URLs like https://backlinko.com/p=123 or https://backlinko.com/8/6/16/cat=SEO/pageid=890.htm
Instead, aim for something like backlinko.com/seo-strategy.
Title tags are also crucial to on-page SEO. Usually, the closer the keyword is to the beginning of the title tag, the better it performs with search engines.
So while you don't always need to start you title tags with target keywords, you'll be needing to put targeted keywords near the beginning of your titles. As well, make sure you wrap your post titles in H1 tags and subheadings in H2 tags.
Use responsive design
Google began penalizing mobile unfriendly sites a few years ago, which means that if your site still isn't using responsive design, you should start working on it asap.
Speed
A study found that 40% of visitors will leave a website if it takes more than three seconds to load. Google understands this, making page speed an important ranking factor – this includes mobile page speed.
To make sure your page speed is optimized, you can start by checking your website in Google PageSpeed Insights. This tool will analyze your pages and offer optimization suggestions.
But because Google PageSpeed Insights can only check one page at a time, you might be better off using tools like Ahref's Audit Insight, which can scan all your pages at once, and highlight pages with issues.
The two main things you can do to improve page speed are:
Reduce image sizes – You can use tools like the Shortpixel plugin in WordPress to compress mages automatically.
Minimize useless HTML – If you're using WordPress, you'd be better served using the text editor as opposed to the visual editor. This minimizes the amount of useless HTML on your pages.
While there are other ways you can shave milliseconds off your load times, these two can get you into that two-second sweet spot that users are looking for.
Off-page SEO
While on-page SEO refers to the manipulations made directly to web pages, off-page SEO refers to the tactics performed outside of the website. These include:
Link building
Link building refers to the process of getting other websites to link back to yours. Building links drives referral traffic, which in turn increases the websites authority. Essentially, links signal to Google that your site is quality resource that's worthy of citation. The more backlinks a website has increases its tendency to rank higher.
It's important to note that you should only engage in natural link building, as opposed to buying them or other manipulative tactics often referred to as black-hat SEO. As well, backlinks from authoritative sites like The New York Times impacts your search rankings greater than those coming from smaller websites.
Basic link building strategies include:
Content creation and promotion – When your content is unique and compelling enough, people will naturally want to reference and link to it. This means that if you have high-quality content, you're going to want to promote it.
Reviews and mentions – It would be wise to put your products and services in front of industry influencers and other people with large followings.
Links from friends and partners – If you have friends and partners in the same industry, ask them to link to your site. This has more weight than those coming from random websites.
Social sharing
While social media may not officially be a Google ranking factor, it can amplify factors that Google does consider. Essentially, social sharing means more visibility for your content – so the more people that share your content, the more likely it is that other people will link to it. As alluded to earlier, links are integral to your rankings.
Recommended tools
Google Search Console – A suite of SEO tools that helps identify duplicate metadata, number of indexed pages, and security pages, among other things that can help you achieve higher rankings.
SEMRush – It helps assess your current rankings, and suggests opportunities to improve rankings.
KWFinder – This is great for finding long-tail keywords that have low level competition. It also runs analysis reports on backlinks and SERPs.
MOZ – Provides keyword recommendations, site crawls, and performance insights, among others.
PPC
Pay-per-click (PPC) is a marketing strategy where advertisers pay a fee each time one of their ads is clicked. In its most basic sense, it's a way to buy visits to your site. One of the most popular forms of PPC is search engine advertising. The practice allows advertisers to bid for ad placement in a search engine's sponsored links. These appear when a user searches for a keyword that is related to the advertiser's business. The example below shows what would appear if you bid for "PPC software."
Best case scenario, the fee paid is miniscule compared to the value of the visit. For example, if the click is charged $4, but the visit ultimately results in a $100 sale, then the strategy has worked tremendously.
PPC Stats
Paid search ads are estimated to increase brand awareness by as much as 80%.
46% of clicks go to the top three paid ads on the SERP.
Mobile devices account for 53% of paid clicks.
46% of users can't identify paid ads on the SERP.
Google Ads
Google Ads is the most popular form of PPC. As you can see below, the top of SERPs has two main sections – the top is the sponsored results (red) and below it is the organic results (green).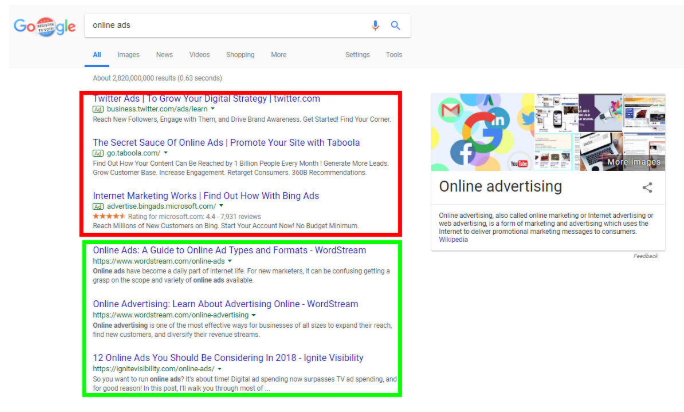 AdWords stats
Google Ads (the new name for AdWords) convert 50% better than free organic traffic. Meanwhile, most businesses see a 200% ROI with Google ads, making it one of the most efficient means of advertising available to marketers.
Google controls 71% of the search engine market. This means that your advertising dollars are best spent on the platform.
In the US, the average cost of search ads across all industries is $2.32.
65% of search results clicks go to Google Ads with buyer intent keywords. These types of keywords typically contain words like sale, best price, discount, checkout, and free delivery.
How Google Ads work
Basically, advertisers choose a list of keywords to target. These are typically the words people are most likely to use when looking for products in their line of business. Then, advertisers bid on keywords, essentially putting a monetary value for how much they're willing to pay for users to click on their ad. That bid, coupled with a Quality Score assigned by Google (based on the quality of the proposed ad), determines which Google ads appear on SERPs. The cost per click is calculated using the formula below:
Google Ads is divided into two networks – the Search Network, which we've been discussing, and the Display Network, which appears in selected areas of websites. While they can be in text, image, video, or rich media format, they normally look like this:
This type of ad is part of what's called remarketing. This is how it works:
So if you've ever wondered why you see ads for products you just viewed on a different website, remarketing is what's going on. These can appear on different platforms, while browsing the web or watching videos on YouTube. It's a cunning way to keep products and brands top of mind. So if you think you're giving yourself time to think by leaving Nike's product pages, think again.
Recommended tools
Google Ads Editor – Ideal for marketers working on larger campaigns or campaigns across multiple accounts. It features a number of tools for bulk edits and optimization.
WordStream Advisor – The tool provides crucial feedback on critical performance factors, making it easier to adjust and improve campaigns.
Spyfu – As the name suggests, this tool has the ability to download all of your competitors' keywords.
Google Keyword Planner – It's essential for anyone looking to utilize PPC. It's also useful for SEO keyword research.
Social Media
Social media marketing is a form of internet marketing that entails the creation and sharing of content on social media in order to achieve business goals. Apart from merely posting content and hoping for engagement, social media marketing also involves things like planning content, sharing curated links, tracking competitors, and paid social media advertising, among others.
Social Media Stats
There are 3.2 billion social media users across the globe, or about 42% of the entire population.
Despite all the privacy concerns, Facebook remains the most widely used platform, with 68% of US adults using it. It also has 2.32 billion monthly active users.
According to one study, an average of 2 hours and 22 minutes per day are spent on social media networks and messaging.
54% of people use social media to research products.
71% of consumers who have a positive experience with a brand on social media are likely to recommend it to their friends and family.
Top platforms
Facebook
The social media giant has 1.56 billion daily active users, and 8% increase year over year. Seventy-six percent of all females are Facebook users, while the same is true for 66% of all males. Meanwhile, close to 30% of its user base belong to the coveted 25 to 34-year-old demographic.
Case studies
Audi Taiwan used ads that click to Messenger to encourage potential customers to book a test drive. The ads highlighted vehicle features and used a clear call to action to initiate a conversation on Messenger. The tactic resulted in a 42% increase in quality leads compared to other channels and a 21% increase in after-sales services. It's important to note that 59.7% of Facebook leads are considered quality leads.
For their part, McDonald's Malaysia ran a campaign featuring content relevant to the 2018 FIFA World Cup, using a combination of Facebook Live, and video and photo ads. They also partnered with a couple of local influencers to unveil their Rio Burger, which was also complemented by video ads.
The campaign reached 17.5 million people, increased sales over the previous month by 22%, and resulted in a 12-point lift in awareness for McDelivery.
Instagram
There are over 500 million daily active users and 1 billion monthly active users on Instagram. Sixty-four percent of its users are between the valuable 18-34-year-old age bracket. Eighty percent of its users follow a business on the platform, showing just how important Instagram can be for brands. Additionally, 60% of users first heard about a product on Instagram, while 30% bought something they first discovered on the platform.
Case studies
Clocks and Colours is a Toronto-based men's jewelry company. Looking to meet its aggressive Q4 sales targets, it partnered with Instagram to develop a multi-layer campaign using a combination of ad formats, creative, and placements. It also used "Shop Now" CTA buttons linked to their website.
At the end of the year, the campaign resulted in a 97% increase in overall online revenue compared to its 2017 Q4 performance. It also saw 3.2x lift in return on ad spend, and a 22% lower cost per acquisition compared to the previous quarter.
Meanwhile, when Nescafe looked to increase awareness and boost sales consideration for its Gold Cappuccino range, it developed a series of visually stimulating videos for Instagram Stories. The videos were custom-made to fit the 9:16 aspect ratio of the format perfectly.
Targeted in Italy, ad recall among women jumped 9.8 points, action intent increased by 3.9 points, while brand awareness among people aged 35-44 soared a massive 22 points.
Twitter
Globally, Twitter had 330 million monthly active users in Q1 of 2019, of those, 259 million are outside the US. In the US, 24% of users are adults, often leaning towards the urban, educated, and higher educated demographic. More importantly, the platform increased its monetizeable daily active users by 11% year over year.
Case studies
For the launch of its Pandora Reflections collection, the brand turned to Twitter to use its demographic targeting to find its core audience of women aged 18-34 who are interested in fashion accessories and jewelry. Ahead of the launch, Pandora encouraged conversations about the line by sharing visual content like videos and GIFs. And on the launch date, it tweeted videos, interactive polls, and carousels of the new product line.
The campaign resulted in an increase in campaign awareness, consideration, and tweet recall. Its video views and engagement also outperformed its previous norms, with 1.1x higher average view rate and an engagement rate that's 10.75x higher than industry benchmarks.
For its part, KITKAT wanted to explore new ways to engage football during the playoffs while also strengthening its association with the NFL. Instead of blasting its message to the widest possible audience, the brand delivered engaging and relevant video content at the precise moment fans were in the game-time mindset.
KITKAT re-rolled ads on in-game highlights as they were tweeted in real time. It also layered on demographic, keyword, handle, interest, and TV targeting to engage the most engaged fans at the optimal times. The strategy resulted in over 3 million views during the playoffs, with an impressive completion rate of 86%.
YouTube
The video streaming platform has over 1.9 billion monthly active logged-in users. It is estimated than an average of over 1 billion hours of videos are watched on YouTube every day. Fifty-nine percent of Gen Z (16-24-year-olds) have increased their YouTube consumption since 2018, 46% can be said for 25-34-year-olds. For brands, it's important to note that YouTube mobile ads are 84% more likely to hold attention than TV ads. Staggeringly, 50,000 years of product review videos have been watched on mobile devices in the past two years.
Case studies
Mattress retailer Turf & Needle wanted to change customers' industry shopping experience marked by high prices, hidden markups, and hard selling. To accomplish this, they used YouTube videos and video ad targeting to show how authentic and different their approach was compared to the rest of the industry. Starting with just $50-$100 a day, the company now dedicates half of its Google ad spend on YouTube.
Mobile phone accessory brand ZAGG used YouTube for product demos and installation tips to prove that its products were better than anything consumers have ever used. With the help of video targeting, ZAGG saw a 75% increase in conversions.
LinkedIn
There are 303 million monthly active users on LinkedIn, 48% of its total user base of 630 million. More than 70% of LinkedIn users are from outside the US. Ninety million users are senior level users, while 63 million are in decision making positions. This is why 40 million students and recent college graduates are on LinkedIn.
The platform is the number one channel B2B marketers use to distribute content. It makes up more than 50% of all social traffic to B2B websites and blogs. This is why 91% of marketing executives believe LinkedIn to be the top place to find quality content, while 92% of B2B marketers include the platform in their digital marketing strategy.
Case studies
The amount of content published weekly may make it difficult to reach your target audience on LinkedIn. American Express sought to counter that by creating a research report designed to pique the interest of business travelers. They then published blog posts and infographics appropriated from the original report. This resulted in a 100% increase in the brand's engagement on LinkedIn.
As a massive company, L'Oreal needs a steady stream of incoming human resource. This is evidenced by the 6,000+ new managers they recruit each year. To aid this need, they tapped on their LinkedIn network made up of some 15,000 employees to find talent. Apart from saving thousands on recruitment costs, one Parisian employee was even able to source 90 top profile candidates in just less than five months.
Recommended tools
BuzzSumo – This tool lets you find the most shared content and trending influencers. It also helps analyze which types of content perform best for any topic.
Buffer – Ideal for beginners, this platform makes it easy for marketers to schedule posts, analyze performance, and manage different accounts in one place.
Canva – If you're working without a designer, then this tool is perfect for you. Canva allows you to create beautiful imagery built for social media with its library of over 2 million graphic elements.
Animoto – When it comes to marketing videos, this tool should be your go-to. It turns your photos and video clips into professional-looking content in just a few minutes.
Content Marketing
The Content Marketing Institute defines this tactic as a strategic marketing approach focused on creating and distributing valuable, relevant, and consistent content to attract and retain a clearly defined audience – aimed at ultimately, driving profitable customer action.
So basically, instead of just highlighting your products' features in an effort to sell, you provide relevant and useful content to your audience, helping them solve their issues. This can come in various forms—blogs, videos, white papers, and even those bite-sized stories.
Content Marketing Stats
90% of the most successful B2B content marketers prioritize their audience's informational needs over the brand's sales messages.
71% of buyers say they were turned off by content that came off as a sales pitch. A similar percentage said they consumed blog content during their buyer's journey.
84% of buyers said they either frequently or occasionally access business-related content on their phones.
64% of B2B marketers place importance on building relationships with influencers, while 65% of B2B buyers prefer credible content from industry influencers.
How to Use the Content Marketing Funnel
Before we get started with this, we need to establish what a content marketing funnel is. Essentially, it's a system that takes leads through a step-by-step content flow with hopes of converting them into paying customers. Using content, marketers are targeting each part of the funnel with unique, stage-specific content that aid in qualifying, nurturing, and converting leads.
A content marketing funnel has three main stages:
Awareness – When leads first discover your brand. The types of content during this stage could be ads, social media posts, and landing pages.
Evaluation – When a prospect decides to find out if your product is right for them. This could be nurtured with how-to videos, product reviews, blog posts, etc.
Purchase – When a prospect gathers the final pieces of information before deciding to purchase. This could be anything from emails to even more reviews.
The funnel has even evolved into having a fourth stage – Delight – which is where you try to make a customer loyal enough to become an advocate. This is where contests and giveaways come in, as well as nurturing emails and other valuable content.
It's important to note that the above is just a generic content marketing funnel. There is no clear-cut solution that fits every brand and industry. You can shape your own depending on your sales cycle, niche, and audience. There will also typically be some sort of overlap between content types and stages. The one constant is that content should always be relevant and useful.
Recommended tools
HubSpot – Features a powerful form builder and an all-in-one WordPress plugin for marketing. Its ability to centralize most of your marketing efforts to a free customer relationship management (CRM) platform allows this tool to provide solutions for every stage of business growth.
WordPress – The most widely-used content management system (CMS) in the world, this tool powers around 30% of the entire internet. Its plugin architecture is ideal for beginners looking to build their online presence.
Airstory – Ideal for writers, it enables you to stay on one platform while saving quotes, images, and multimedia and dragging and dropping it into your writing.
Yoast – Great for writing SEO-focused content. Its suite of features allows you to do everything from optimizing content for keywords, and editing meta-descriptions, up to suggesting relevant internal links.
Takeaway
As a beginner, it would not be realistic to try and incorporate all the aspects of digital marketing right away. Assess your business needs, establish goals, and identify one or two aspects of digital marketing and focus on them. As you go along, you'll find that you can implement the other aspects to complement your efforts. And in time, you'll eventually build a comprehensive strategy that employs most of what is discussed in this guide.